It is reported that there's a
90% reduction
of hair using laser hair removal
Laser sessions are recommended
every 6 weeks
for the best results
The average amount is
4-6 sessions
of laser hair removal
After the initial session
about 10-25%
of hair follicles will be reduced
What Is Laser Hair Removal?
Traditional methods of hair removal only remove it temporarily, are time consuming, and can cause unwanted razor bumps and ingrown hairs. With laser hair removal, it's possible to get rid of unwanted body hair safely while also achieving silkier, smoother skin.
How Does Laser Hair Removal Work?
During laser hair removal, pulses of highly concentrated light are delivered from the laser into the hair follicles. The pigment in the hair follicles absorbs the beam of light, which damages the follicle enough to destroy the hair and slow its growth in the future.
Shop
SkinCeuticals® products
Where cutting-edge skincare meets clinical treatment
SHOP NOW
You can purchase online today
Benefits Of Laser Hair Removal
Precision: This laser treatment is very precise and only targets unwanted hair, leaving the surrounding skin unaffected. This makes laser hair removal safe for all skin types when performed by a board-certified dermatologist.
Eliminate ingrown hairs: Unlike shaving or waxing, you don't have to worry about dealing with pesky ingrown hairs after the procedure since treatment removes hair at the root.
Speed: Since each pulse of the laser targets several hairs at once, your treatment session won't take up too much of your time. Treating small areas of the body, such as underarms or the bikini area, just takes about 20 minutes, while treating the arms and legs only takes about an hour.
Smooth skin: Shaving and waxing can cause bothersome prickly stubble, but this laser treatment for hair removal doesn't leave behind any stubble or stray hair. You will be able to enjoy smooth, silky hair right after treatment.
No need to grow hair between treatments: Unlike waxing, your hair doesn't have to grow to a certain extent before your treatment session. This means you can shave as often as you need to in between sessions.
What Does A Treatment Session Consist Of?
Before your treatment session begins, the hair undergoing treatment is trimmed to a few millimeters above the surface of your skin. To ensure your comfort during treatment, your Premier dermatologist may also apply a numbing gel to the targeted area. Your dermatologist will also make adjustments to the laser equipment based on skin color and the thickness, color, and location of the hair undergoing treatment.
You and your dermatologist will wear special eye protection during the procedure. During treatment, your skin is held taut as your dermatologist presses the laser instrument to your skin. The laser pulses can feel like a rubber band being snapped against your skin or a warm pinprick, but the majority of patients tolerate the procedure very well.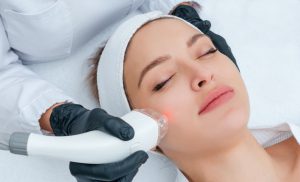 Is Laser Hair Removal Permanent?
Although results will vary for each patient, you'll notice results immediately after your first session. Although all of the hair isn't removed after your first treatment, it will start growing slower. When your hair grows back after each treatment, it will be significantly finer and lighter in color.
For best results, we recommend a series of four to six treatment sessions that are spaced about six weeks apart. "Is laser hair removal permanent?" is a question asked by many of our patients. After completing the number of treatment sessions recommended by your dermatologist, most patients enjoy permanent hair removal for months or even years.
Is Laser Hair Removal Safe?
When performed by one of our qualified providers, patients find laser hair removal safe and effective. Our Premier dermatologists have the skills and expertise needed to safely perform this procedure. Schedule your consultation today to learn how you can benefit from this hair removal treatment.
Where Can I Receive Laser Hair Removal?
Our experts at Premier Dermatology are highly skilled in using lasers and have an in-depth knowledge of the procedure, so you can trust the care you'll receive from our experienced and compassionate providers.